Visiting the Mullet Peninsula
Belmullet is the gateway to the Mullet Peninsula. On my first trip to Mayo along the Wild Atlantic Way in Mayo we missed out on the Mullet Peninsula as we were limited in time, so we passed it by.
Therefore I had to return to add this route to the site. In my opinion, I do not think it is the most scenic part of the WAW, as it is quite flat. But it does have some redeeming locations which are worth a visit. So if you wish to visit all the Wild Atlantic Way Discovery points you need to go here, as there are a few on the Peninsula.
But then also remember there are also quite a few islands that are also Discovery points on the WAW, which obviously take time to visit. So if time is of the essence, then you could also just as easily leave this route out and go further North or South.
During my visit to the Mullet Peninsula, the weather was also not brilliant, so I apologise for the photos being rather grey. But this is Ireland!
Wild Atlantic Way Driving Route – Mullet Peninsula
Approx. 85km distance, 1 hrs 36 minutes driving time
Belmullet is the gateway to the Mullet Peninsula.
Trá Oiligh, or Elly Beach is protected from the Westerly Atlantic Winds and looks back towards the mainland over Blacksod Bay. The west side here gets the brunt of the Atlantic and hence is favoured by surfers.
Inishkea South
This island is one of several islands off the Mullet peninsula. There are two main islands, North and South. The southern Island is marked as a Discovery point on the Wild Atlantic Way. The islands are now uninhabited though in the past they had larger populations.
In the past, their inhabitants were known for fishing and piracy. There is evidence of settlement on the islands dating back 5,000 years. There are also old Christian archaeological sites.
In October 1927, there was a large storm that drowned 10 local fishermen from Inishkea in their currachs at sea. Another 44 were drowned in the same storm off Lacken, Inisboffin and in Cleggan Bay.
You can get to the island via a number of service providers: Belmullet Boat Charters, Geraghty Charters, Blacksod Sea Safari and North Atlantic Charters. The islands are home to grey seals and various bird species
The Blacksod Lighthouse is one of four lighthouses on the Mullet Peninsula. The lighthouse is constructed with granite from a local quarry.
There are Blacksod and Ballyglass on land and Eagle Island and Blackrock offshore. This lighthouse was completed in 1865.
The light was electrified 100 years later. In June 1944 it was the weather report from Ted Sweeney (the keeper of Blacksod) that influenced the decision to initially delay, and then finally go ahead with the D-Day landings in Normandy on June 6th 1944.
You can do tours around the lighthouse that you can book online.
Blacksod Pier
Blacksod Pier is a working fishing pier located next to the iconic Blacksod Lighthouse. You can do tours around the lighthouse that you can book online. In 1883 and 1884 about 3,300 people were brought from Blacksod Bay to America on 15 different voyages.
Plans to develop Blacksod Bay as a large transatlantic port were shelved when Europe went to war in 1914.
Close to the pier, you will also find a garden created as a memorial to the sailings from Blacksod Bay to the USA and Canada in 1883/1884.
Comharchumann Forbartha Ionad Deirbhile Eachleim created the memorial garden in 2013 to mark the 130th anniversary of the first sailing.
Falmore
Falmore is a small village in the Southernmost part of the Mullet peninsula. It has several places dedicated to St.Deirbhile. There is a well and the remains of St. Deirbhile's Church.
There is also Deirbhile's Twist, which is a granite boulder sculpture that is part of the Tír Sáile, the North Mayo Sculpture Trail from 1993. This is the largest public arts trail ever done in Ireland. There are a few more of these located sculptures on the Mullet Peninsula.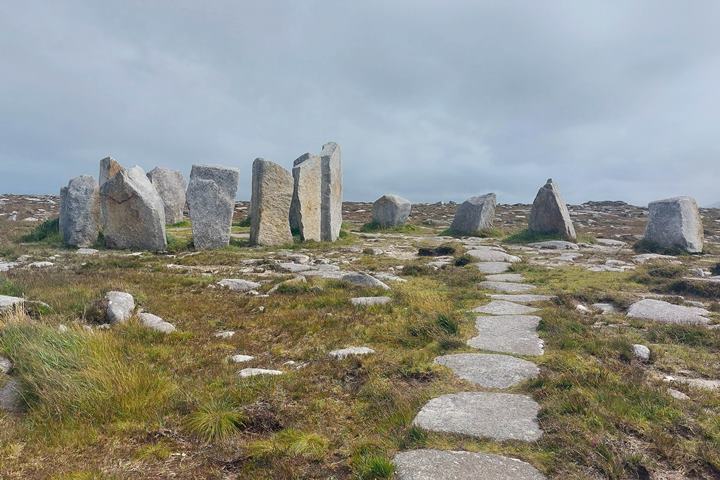 There are great views from here over to Achill Island.
Annagh Head
Ceann an Eanaigh (Annagh Head ) is towards the North West part of the Mullet Peninsula. There are great views from this Discovery Point which has some of the oldest bedrock found in Ireland.
There is another of the sculptures from Tír Sáile at this location, called The Thin Places.
Dunnamo
Dún na mBó or Dunnamo is the location of an old promontory fort at the location of a large natural blowhole.
There is also another Tír Sáile exhibit at this location. There are views out to Eagle Island and the lighthouse there.
The exhibit surrounds a huge blowhole that must be impressive when there is a large sea here.
Erris Head Loop Walk
This is about a 5km walk through a conservation area. The weather will determine your enjoyment, as it can be very changeable. So make sure you have the right footwear and rain gear. When I was there it looked like a huge storm was coming in – then it rained for 2 minutes and abruptly stopped!
There is a signpost showing the route. There is also a parking area and a coffee truck serving coffee, cakes and ice cream.
Here are some video's I took while driving over the Mullet peninsula. You can see how sparsely populated and flat the area is:
You can see that the roads are not all well looked after, as well.
And this video, a little bit sped up!
I have spent many (fun) hours creating this website to help people travelling the Wild Atlantic Way. If you found it useful and it helped you plan your trip, please consider donating towards my petrol/gas bill! Many thanks!
Last Updated on October 21, 2023 by Gav