County Leitrim (Wild Atlantic Way)
The Wild Atlantic Way does pass through county Leitrim, but only for a very short distance. The N15 road, that is part of the Wild Atlantic Way, only crosses Leitrim for about 5 km inside the county.
The county of Leitrim does not have any actual Discovery points along the WAW, but there are plenty of other sights to see if you have time to explore.
County Leitrim is home to the Five Glens: Glencar, Glenade, Glenaniff, Glenboy and Glenfarne. All of these have good walking, cycling and hiking routes and there are some spectacular places to visit along the way. But they are not on the Wild Atlantic Way as such, which follows the coast.
Some local businesses have created a Five Glens Wild Atlantic Loop initiative which may give you an idea of some places to visit. Their map is a bit confusing as, although described as a loop, it suggests you explore the Glens from the central point of Manorhamilton, which does actually seem to be a good way to do it.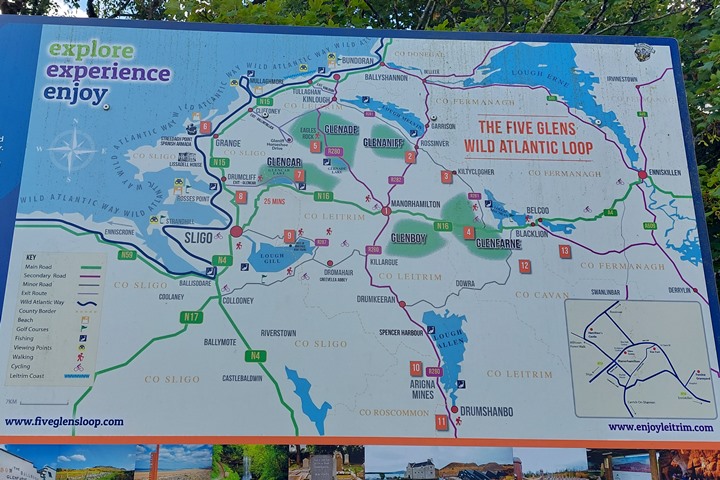 Perhaps the local Leitrim Tourism site can help as well if you intend to stay in Leitrim for a few days.
You may wish to visit places like Hamilton's Castle (Manorhamilton), Parke's Castle (Lough Gill), or Eagle's Rock.
I have only visited one location in Leitrim, which was the Glencar Waterfall.
Leitrim Loop
Below I have created a single looped drive route that takes you through part of Northern Leitrim, past Glenade Lough, the Gleniff Horseshoe and the Glencar Waterfall.
You may also decide to visit the waterfall on your drive through Sligo. It is up to you and depends on your mission. You could easily deviate from the described route to visit Eagle's Rock if you want.
Approx. 81 km distance, 1 hr 28 minutes driving time
Download the route map to your phone with ALL the points of interest included here: Leitrim Loop Route.
Glencar Waterfall
This lovely waterfall in county Leitrim is not on the Wild Atlantic Way but is worth the detour. The waterfall can be reached with a short walk from the car park.
The Glencar waterfall features in WB Yeats' poem 'The Stolen Child'.
Quote:
'Where the wandering water gushes
From the hills above Glen-Car,
In pools among the rushes
That scarce could bathe a star,
We seek for slumbering trout
And whispering in their ears
Give them unquiet dreams;
Leaning softly out
From ferns that drop their tears
Over the young streams.
Come away, O human child!
To the waters and the wild
With a faery, hand in hand,
For the world's more full of weeping than you can understand.'
Last Updated on February 2, 2023 by Gav